Libretto assembled by Mallory Catlett and Aaron Siegel
Based on Yellow Flowers in the Antipodean Room by Janet Frame
Music by Aaron Siegel
Directed by Mallory Catlett
Created with Gelsey Bell, Matt Evans, Justin Hicks, Paul Kerekes, Anais Maviel, Dave Ruder, and Andie Springer
Rainbird is an adaptation of the novel Yellow Flowers in the Antipodean Room by the celebrated New Zealand author Janet Frame.  Rainbird tells the story of a middle-aged family man in New Zealand named Godfrey Rainbird who gets hit by a car and is pronounced dead.  After the funeral arrangements have been made and his belongings have been cleared from the house, he wakes up in the morgue. What ensues is the emotional struggle of the Rainbird family, not in accepting Godfrey's death, but, rather, his resurrection. Now a symbol of death, he is ostracized by his community and his family destroyed.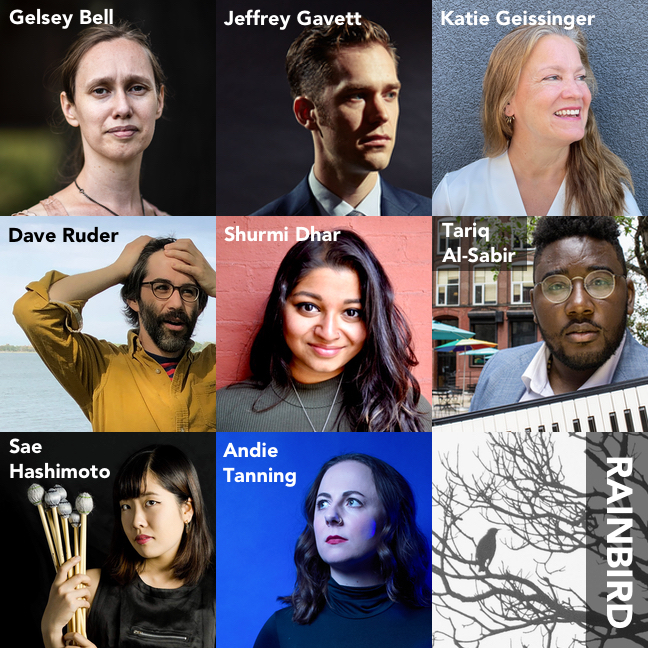 Featuring
Gelsey Bell, Voice
Jeffrey Gavett, Voice
Katie Geissinger, Voice
Shurmi Dhar, Voice
Dave Ruder, Voice
Tariq Al-Sabir, Keyboards/Music Director
Andie Springer, Strings
Sae Hashimoto, Percussion
Francisco J. Rivera Rodríguez, Assistant Director
Behind the scenes with Aaron and Mallory
As part of their 2019 residency at the Baryshnikov Arts Center, Aaron Siegel and Mallory Catlett sat down with writer Melissa Levin to discuss their collaboration, and the development of Rainbird.
Rainbird is supported by The ​NYC Women's Fund for Media, Music and Theatre by the City of New York Mayor's Office of Media and Entertainment in association with The New York Foundation for the Arts.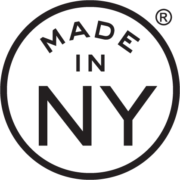 Artist Bios
Mallory Catlett (librettist/director) is a creator and director of performance across disciplines from opera to installation. With her company RESTLESS NYC she works with the literary and theatrical canon as a source for contemporary performance.  This Was The End, her remix of Chehkov's Uncle Vanya, won an Obie Award, New York Dance and Performance "Bessie" Award, and a Henry Hewes Award. Rainbird, a co-production with Experiments in Opera, is her first libretto co-written with composer Aaron Siegel. Other works of opera include Mika Karlsson's The Echo Drift (Prototype Festival), Stefan Weissman's The Scarlet Ibis (Prototype Festival), Tarik O'Reagan's Wanton Sublime (American Opera Projects), and Aaron Siegel's Brother, Brother (Experiments in Opera). Her work alongside and with RESTLESS has premiered and been presented at Mabou Mines, La MaMa, 3LD, HERE Arts Center, Ontological-Hysteric Theater, PS122, Abrons Arts Center, EMPAC, Chocolate Factory, Roulette, and the Collapsable Hole; been featured at Ice Factory, COIL Festival, Prelude Festival, Prototype Festival, and BAM's Next Wave; and toured internationally to Canada, France, UK, Ireland, and Australia. She is a 2015 Foundation for the Contemporary Arts Grantee, a 2016 Creative Capital Grantee, an Associate Artist at CultureHub, a member of the Collapsable Hole, an artist run development and performance venue, and the Co-Artistic Director of Mabou Mines.
Aaron Siegel (composer/librettist) is a composer for the concert stage and the theater. He is an enthusiastic collaborator who believes in the power of shared process and inquiry. In 2019, Siegel released A Great Many on New Amsterdam Records, featuring Mantra Percussion and clarinetist Christa Van Alstine. A recent collaboration with the U.S. Poet Laureate Tracy K. Smith resulted in the oratorio I Will Tell You The Truth About This, I Will Tell You All About it, which was premiered by Harlem-based Songs of Solomon Choir at the Schomburg Center. He contributed to the collaboratively composed opera, Chunky in Heat,  in May 2019 at The Flea Theater. Siegel has been developing the new music theater piece Rainbird with long-time collaborator, director Mallory Catlett, with whom he created his first opera, Brother Brother. Siegel is one of the co-founders of Experiments in Opera (EiO) and has produced over 65 new operatic works with the company since its founding in 2011.
Gelsey Bell (performer/creator) is a singer, songwriter, and scholar. She has been described by the New York Times as "a charismatic and fiercely intelligent performer," whose performance of her own music is "virtuosic" and "glorious noise." She has released multiple recordings, is a current HARP Artist at HERE Arts Center, and received a Foundation for Contemporary Arts award for music/sound. She is a core member of thingNY, Varispeed, and the Chutneys. Her works include Bathroom Songs, Scaling, Our Defensive Measurements, shuffleyamamba (with Yasuko Yokoshi), Prisoner's Song (with Erik Ruin), This Takes Place Close By (with thingNY), and the acclaimed adaptation of Robert Ashley's Perfect Lives (with Varispeed). Performance highlights also include Dave Malloy's Natasha, Pierre, & the Great Comet of 1812 (Broadway) and Ghost Quartet, Robert Ashley's Improvement and Crash, Matthew Barney and Jonathan Bepler's River of Fundament, Kate Soper's Here Be Sirens, and Gregory Whitehead's On the Shore Dimly Seen. She has a PhD in Performance Studies from NYU and is currently completing a book about American experimental vocal music in the 1970s. She is the Critical Acts Co-editor for TDR/The Drama Review and an Associate Editor for The Journal of Interdisciplinary Voice Studies. www.gelseybell.com
Jeffrey Gavett (performer), called a "brilliantly agile singer" by the New York Times, performs a repertoire spanning from Gregorian chant to newly commissioned works and his own compositions. He has sung with a broad array of artists, ranging from indie rock group Clogs to new music groups Alarm Will Sound, International Contemporary Ensemble, New Juilliard Ensemble, Roomful of Teeth, SEM Ensemble, Ensemble Signal, Talea Ensemble; and his own groups, the new music vocal ensemble Ekmeles, and mixed ensemble loadbang (trumpet, trombone, bass clarinet, baritone voice). He has worked with composers including Chaya Czernowin, Beat Furrer, David Lang, Meredith Monk, Nico Muhly, Terry Riley, Caroline Shaw, Steven Takasugi, and Charles Wuorinen. He appears on a Kairos CD of the music of Chaya Czernowin, singing with International Contemporary Ensemble under Steve Schick, and a Bridge Records CD of the music of Charles Wuorinen, performing with loadbang. With loadbang, he has also recorded three full-length recordings of newly commissioned repertoire, an album with string orchestra, and a series of improvised EPs. He conducted and sang on Ekmeles's 2020 debut album A Howl That Was Also A Prayer, which was praised as "absolutely astonishing" by Fanfare Magazine. He also conducted and music directed Roomful of Teeth for their 2016 release The Colorado.  His theatrical appearances include Rudolf Komorous's Nonomiya and the world premiere of Petr Kotik's Master-Pieces at New Opera Days Ostrava in the Czech Republic; Annie Dorsen's Yesterday Tomorrow on the Holland Festival, with subsequent performances in Oslo, Arras, Zagreb, and New York; the world premiere of Matt Marks's Mata Hari; and Hannah Lash's The Shepherdess and the Chimney Sweep, with the composer at the harp; and appearance on video in Judd Greenstein's A Marvelous Order. Mr. Gavett holds degrees from Westminster Choir College and Manhattan School of Music.
Katie Geissinger (performer) loves performing new music theater. A long-time member of Meredith Monk's ensemble, she was in the original cast of ATLAS (Houston Grand Opera), and recently coached the cast of the LA Philharmonic's 2019 revival (featuring Tariq Al-Sabir), directed by Yuval Sharon. This season's appearances with Monk include the workshop premiere of Indra's Net in Oakland, tours of Cellular Songs, and Memory Games, a concert collaboration and recording (Cantaloupe) of Monk compositions with the Bang on a Can All-Stars. She recently performed Weave, a piece Monk wrote for her and Theo Bleckmann, at the Winnipeg New Music Festival, this time with Jeff Gavett. She is a recipient of an ensemble BESSIE for her work in The Politics of Quiet, and is featured on Monk's Grammy-nominated Impermanence (ECM).  Katie performed in Philip Glass and Robert Wilson's Einstein on the Beach (Elektra Nonesuch), Bang on a Can/Ridge Theater's OBIE-winning The Carbon Copy Building (Cantaloupe), and Julia Wolfe/SITI Company's Steel Hammer. She was featured in Ann Hamilton's the event of a thread, with music by David Lang, at the Park Avenue Armory, and premiered Naamah's Ark, an oratorio by Marisa Michelson and Royce Vavrek conducted by Ted Sperling, about the experience of one town during Hurricane Sandy. Katie appeared on Broadway in Baz Luhrmann's La Boheme, and in Coram Boy. In addition to her many recordings with Meredith Monk, she has recorded the film soundtracks for Kundun, The Big Lebowski, and Noah. Her classical credits include the Witch of Endor in Honegger's Le Roi David at Carnegie Hall, Jonathan Miller's staging of Bach's St. Matthew Passion at BAM, and John Tavener's The Veil of the Temple at Lincoln Center. She is a frequent soloist at St. John the Divine under Kent Tritle, where she recorded The Four Quarters of Jerusalem (Pro Organo) with Rose of the Compass.
Shurmila Dhar (Performer) is a New York based vocalist. She began her classical vocal training in 2010 and continued her studies at the Peabody Conservatory where she graduated with a Bachelor of Music in classical voice performance in 2018. She has since branched out as a concert vocalist and improviser with a focus in contemporary classical. Her improvising style features a wide range of techniques that focus primarily on the extremes of the voice and its vast timbral palette as well as pushing the limitations of the human voice. Dhar has performed with a number of groups including Echo Ensemble and Aakash Mittal's Awaz Trio. She has also performed several leading operatic roles including, but not limited to: Girl 3 in the U.S. premiere of Errollyn Wallen's ANON, Dido in Purcell's Dido and Aeneas, Adina in Donizetti's L'Elisir D'Amore, and Pamina in Mozart's Die Zauberflote. Her solo concert performances include Schubert's Mignon Lieder, Wolf's Italienisches Liederbuch, and Satie's Cabaret Songs.
Dave Ruder (performer/creator) is a musician based in Brooklyn. Over the years he has worked as a vocalist, clarinetist, guitarist, composer/songwriter, electronic musician, etc. Much of Dave's work is done collaboratively as a member of the groups Varispeed, thingNY, and Thee Reps. He has also released numerous solo albums in different styles on Gold Bolus Recordings, a label he started and runs. Some major creations of Dave's include Untuned (2007) for ten unplugged, untuned, electric guitars, WHY LIE? (2010), 100+ small, flexible score available online, The Gentleman Rests (2014), a meditation on the certification of the 2000 presidential election commissioned by the Jerome Foundation, and You Must Read a Lot of Jung (2018), an extended sextet created for thingNY. Additionally, Dave has worked extensively on the music of Robert Ashley, premiering two of his late compositions and performing in versions of Perfect Lives, Trios (White on White), World War III (Just the Highlights), That Morning Thing, Public Opinion Descends Upon the Demonstrators, Crash, Love is a Good Example, and Improvement.
Tariq Al-Sabir (performer/music director) has been described as a "boundless talent" by Baltimore's City Hall and The Examiner deemed him "a rising musical mastermind."  In 2017, he premiered commissioned works  at The Lincoln Center, National Sawdust, and Joe's Pub at The Public Theater. He collaborated with Kambui Olujimi and the Lone Wolf Recital Corps at MoMA in short film and live performance for the exhibition Projects 107: Lone Wolf Recital Corps. He nationally and internationally premiered the roles of Richard Moss and Travis Douglass in Octavia E. Butler's Parable of the Sower, an opera by Toshi Reagon and Bernice Johnson Reagon. In 2018 Tariq was selected to be a member of the inaugural SUITE/Space Artist residency with the legendary Mabou Mines Theater Company, where he conceived and presented a workshop version of his theatrical-multimedia song cycle #UNWANTED in their new theater at Performance Space 122.  Al-Sabir served as music director for the Off-Broadway run of Black Light at the Public Theater and Greenwich House Theater. #UNWANTED premiered to the world at THE SHED in NYC among the inaugural Open Call commissions. In Summer of 2019 Al-Sabir made his LA Philharmonic debut in the cast of Meredith Monk's, ATLAS under the direction of Yuval Sharon. He is currently collaborating with Monk on her new evening-length performance, Indra's Net.
Andie Tanning (violin/creator) is a violinist and performer. She is the cofounder and musical director of Wild Shore New Music, now in its seventh year as Alaska's premier new music festival. She released her debut album, "Dandelion," in December 2018. Steve Dollar of the National Sawdust Log writes, "The stylistically diverse Dandelion is not only a scrapbook of Springer's experiences and influences, but also an open and always surprising collaboration with composers and video artists whose spirits are illuminated through the violinist's intrepid musicianship and exploratory nature." She has toured internationally as a company member of the New York City Players, has served as a multi-instrumentalist in theater groups Object Collection and New Paradise Laboratories, was the fiddle player in the musical, The Snow Child, by John Strand, Georgia Stitt and Bob Banghart, and was a violin sub in the Broadway revival of Oklahoma!. Ongoing musical collaborations include a duo with guitarist James Moore and the minimalist rock band Thee Reps. Her album with James Moore, "Gertrudes," was released on New World Records in 2016. She has performed at LA Opera, The Kitchen, The Pompidou, and Carnegie Hall. Tanning is faculty at Larchmont Music Academy and St. Lukes School. Her work has been reviewed by the New York Times, New Sounds Live, and The Wall Street Journal.
Originally from Osaka, Japan, Sae Hashimoto (percussion) is an exhilarating percussionist in New York City. Active in the symphonic and contemporary field, and as a rising figure in the avant-garde scene, her unique performances have been described as "seductive yet sharp" by the New York Times, and "remarkably dynamic" in New York Classical Review. She has performed with the New York Philharmonic and New York City Ballet, and currently serves as the principal timpanist of New Jersey-based orchestra Symphony in C. She also performs frequently as a baroque timpanist with renowned early music ensembles in New York. In 2021, she joined Yarn/Wire, a piano/percussion quartet dedicated to the promotion of creative, experimental new music in the US and abroad. Her close collaboration with avant-garde composer John Zorn has resulted in premiering over ten of his compositions, some of which have been recorded and released on albums under the Tzadik label. Her latest project is Archipelago X, an improv-based trio consisting of Brian Marsella on keyboards and Ikue Mori on electronics. From 2018 to 2020, she was selected as the percussionist of Ensemble Connect, a fellowship program of Carnegie Hall for extraordinary young professional classical musicians. She was a recipient of the Kovner Fellowship at the Juilliard School where she received her BM and MM degrees.